Fixed Dentures on Implants
Permanent Denture Implants
The Solid & Strategic Solution for Missing Teeth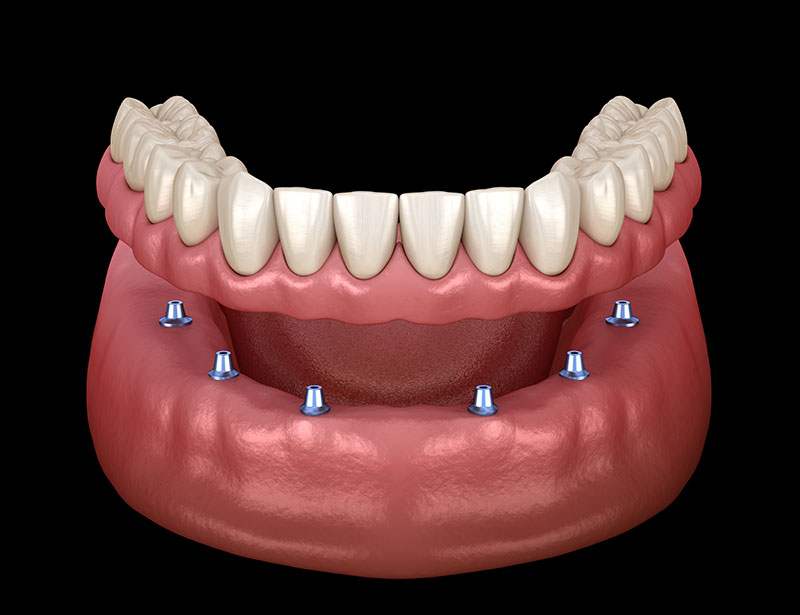 If you struggle with the fit and feel of conventional dentures due to bone loss in the jaw or if significant tooth loss or decay, fixed dentures on implants could be the modern solution for your missing teeth! Dental implants are placed in your jaw, eventually fusing with the bone during a process also called osseointegration — from the Latin osseus meaning "bony" and intergrare meaning "to make whole." Once this process is complete, your dentures can be permanently attached or "fixed" in place to these implants.
Have you already lost an entire arch of teeth? Or are you soon to have your remaining teeth removed because they can't be saved? Then fixed dentures supported by implants could be the right path to take.
There are several advantages to choosing permanent dentures on implants:
Your fixed dentures on implants fit, function, and feel like natural teeth

They stay securely in place while you eat or talk

Permanent dentures on implants can help prevent bone loss in the jaw
Feel confident and enjoy eating your favourite foods again with permanent denture implants.
FAQ
Common Questions About Dentures
How much do permanent dentures on implants cost?
The cost of permanent dentures on implants is different for each patient. It will depend on many factors, including the surgical procedures involved and the type of restoration that's secured to the implants.
Can you switch to dental implants if you've had dentures for years?
It's possible for most patients to switch from removable dentures to fixed/non-removable dentures on implants. Your denturist first needs to assess the health of your remaining teeth and oral tissues to ensure the jaw bone and gum tissue are strong enough to support implants. If your jaw bone isn't as strong as it needs to be, a bone graft might be required.