Removable Dentures on Implants
Removable Dental Implants
A flexible denture option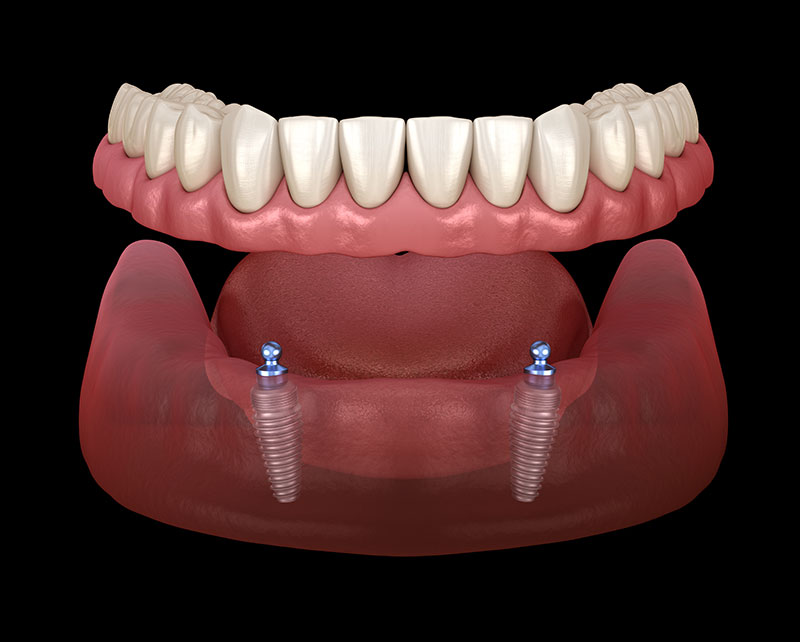 Similar to fixed permanent dentures, removable dentures use implants to stay in place and prevent slipping. They also provide additional facial support which is particularly important for patients with significant bone loss. What sets them apart, however, is that they can be removed for much easier cleaning in less time and with less effort. Another benefit of removable dentures on implants is their lower cost—this option is typically about half the cost of fixed permanent dentures
We know you might have more questions about removable dentures on implants, and we're here to help! Please contact us today to schedule a consultation where we can answer your questions, assess your case, and provide you with all of the information and resources you need to make the best decision for your oral health.
Removable Dentures Advantages
Cost-effective (usually about half the cost of fixed permanent dentures)

They are easier and faster to clean since they can be removed

Using a denture extension under the lips, implant overdentures can provide additional facial support for patients with facial bone loss.
Restore your smile and enjoy eating your favourite foods again with removable dental implants.
FAQ
Common Questions About Dentures
How much are removable dentures on implants?
Dental implant surgery costs vary from patient to patient depending on their specific case. The cost of the removable dentures themselves will also vary depending on how many denture teeth are needed and other factors. When you book a consultation with us, we'll be able to give you a more specific cost-estimate.
Are there disadvantages to denture implants?
Denture implants can be a great solution for many patients, but they're not right in every case.
Dental implant dentistry is usually a more lengthy treatment than other denture services. For some patients, it might also require bone grafting surgery, and the implants take about three to six months to heal.
For some patients, the higher cost of denture implants is also a deterrent.
How many denture implants do I need in my upper jaw?
For upper overdentures, four implants are usually necessary. For non-removable options, six or more implants could be required.
Is food going to get stuck under my overdentures?
Some types of food are more prone to getting caught between the soft gum tissues and the teeth or implants they attach to, but we'll prepare you with everything you need to try and avoid this, and how to deal with it when it does happen.
How long do implant supported dentures last?
For some patients, their dental implants may last a lifetime. The dentures on the implants, however, typically need to be replaced every 5-10 years.
Can my normal dentures be permanently attached?
If you're wearing conventional dentures while you heal from your dental implants, you might be wondering if that same denture can be permanently attached to the implants once they're healed. Unfortunately, a new denture is almost always needed because it needs to be reinforced with a CAD/CAM substructure—something that can't be added to an existing denture.