Partial dentures create a dynamic smile.
Still have many healthy teeth?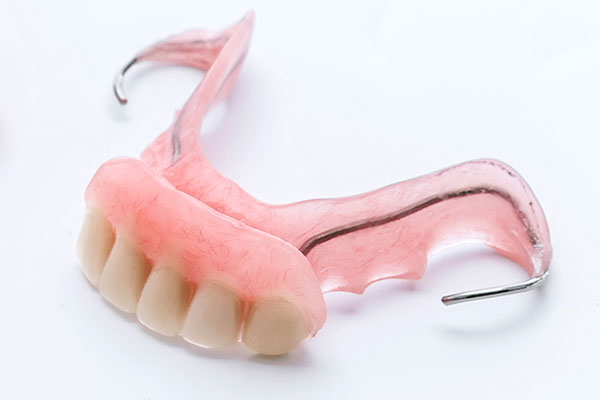 Some patients have remaining healthy natural teeth and only require one or some of their teeth to be replaced. In that case, partial dentures can be used to help complete their smile! Removable partial dentures look natural and fit in seamlessly alongside your natural teeth. While they do improve the look of your smile, there are other great benefits to choosing this option as well.
When patients are missing one or several teeth, their bite pressure will start to shift. Over time, this can lead to problems, including their natural teeth shifting to "fill in the gaps." With partial dentures, the form and function of your jaw can be reserved and maintained. The good news is, partial dentures are also one of the easiest and least expensive denture solutions that can help you feel your best. 
Could partial dentures be the perfect choice for you? What do partial dentures cost? How long will they last? We are here to answer all of these questions for you and to see if partial dentures are the right fit for you. Call us today to book a consultation!
Let us help you restore your smile and enjoy eating your favourite foods again. 
No referral needed!
FAQ
Common Questions About Dentures
How much are partial dentures?
The cost of partial dentures depends largely on how many teeth are on the denture. To get a detailed estimate, please give us a call and book a consultation.
What are partial dentures? How do they work?
This is an effective solution for patients who are missing some or multiple teeth and a bridge isn't an option for them. Partial dentures include artificial teeth that are securely attached to a base that matches the colour of your gums. They are easy to remove for quick cleaning.
Can you eat with partial dentures?
It might take time to adjust to eating with partial dentures. Eventually, most patients eat and chew quite comfortably with their partials! Certain foods, including those that are particularly sticky or chewy may always pose a challenge. We will make sure you are set up for success with your partial dentures and offer all of our advice for wearing them.
How long do partial dentures last?
This is different for every patient. It depends on factors like the fit of your partial denture, as well as the health of your remaining teeth. The tissues (including the bone) in your mouth can change over time, ultimately resulting in the need for a new partial denture. Denture teeth are also prone to wearing down faster than natural teeth so they will need to be replaced accordingly.